Turówka Hotel & SPA****
SAFETY & HYGIENE PRINCIPLES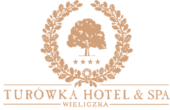 SAFETY & HYGIENE PRINCIPLES
Turówka Hotel & SPA****
Dear Guests,
We are delighted to welcome you to Turówka Hotel & SPA ****.
Due to COVID-19, we are currently providing services with certain restrictions and we will do our best to make your stay safe as well as unique.
Please familiarise yourself with the following health and safety procedures that are being implemented at Turówka Hotel & SPA ****
SAFETY
Employees and caterers are subject to mandatory body temperature checks (using a non-contact proximity thermometer) and are required to wash/disinfect their hands before entering the facility.
Guests will have their body temperature measured at check-in using a non-contact thermometer. In case of any doubts related to the health status of a Guest (increased temperature, coughing, shortness of breath), an employee of Turówka Hotel & SPA **** has the right to refuse check-in or service to the Guest (without a refund of the advance payment).
Guests and employees enter and exit the Hotel through two separate entrances.
The bathrooms have been provided with antibacterial soap and hand washing guidelines. Antibacterial gel is available in all public spaces.
We encourage social distancing in public spaces (min. 2 m), including the Hotel garden. It is mandatory to wear a mask in all public areas.
Staff are prepared in the event of a health hazard with up-to-date safety training.
Instructions regarding the current health and safety regulations can be found throughout the Hotel's public spaces.
RECEPTION
Receptionists provide all services whilst wearing mask.
Only 1 Guest at a time may stand by the Reception desk.
The Guest and the receptionist are separated by a protective screen.
Please use the hand sanitizer provided at the Reception desk before filling out the registration card.
We encourage you to make cash-free payments only. The payment terminals are disinfected after each use.
The Receptionist disinfects the Reception desk after each Guest.
Disposable masks and antibacterial gels can be purchased at the Hotel Reception.
Guests should wear a mask in all the Hotel's common areas.
Room keys are disinfected after each use.
ROOMS
Surfaces in public areas are regularly disinfected, and rooms are thoroughly cleaned and ventilated after each stay.
Bedding is washed by a professional external service using newly adopted safety and hygiene standards.
Room cleaning during the stay can be carried out at the Guest's explicit request by placing a tag on the door handle which can be found in the room, or by contacting Reception.
GASTRONOMY
The opening hours of the Restaurant have changed to:
Monday – Friday 2:00 pm till 11:00 pm
Weekend 1:00 pm till 11:00 pm
Along with the opening hours of the Café Bar:
Monday – Friday 9:00 am till 11:00 pm
Weekend 10:00 am till 11:00 pm
After the Restaurant closes room service will be available throughout the night. Orders can be placed by calling 100 using the hotel room phone.
Breakfast is served from Monday to Friday from 7:00 am to 10:30 and from 7:30 am to 11:00 am on the weekends.
During the execution of an order into the room, please observe the basic safety rules when coming in contact with the hotel Staff.
Distance between tables in Restaurant is 1,5 m.
Tables are disinfected follows serving each Guest.
Restaurant staff is required to wear masks.
Guests can remove their masks after taking a seat at the table.
WELLNESS & SPA ZONE
The pool area and Jacuzzi are available to Guests staying at Hotel – opening hours: 8:00 am till 10:00pm. A maximum of 10 people are allowed in the pool area.
The salt cave, dry sauna and steam sauna are available to Guests staying at the Hotel – opening hours: 10:00 am till 8:00 pm (Monday to Friday) and 9:00 am till 9:00 pm (weekend).
A maximum of 2 people can stay in the salt cave.
A maximum of 1 person is allowed in the dry sauna and the steam sauna.
Cosmetic treatments in the SPA will take place during the following hours:
Monday – Thursday 10:00 am till 8:00 pm
Friday 10:00 am till 9:00 pm
Saturday 9:00 am till 9:00 pm
Sunday 8:00 am till 15:00 pm
Please book your treatments in advance by calling +48 12 279 61 41.