Turówka Hotel & SPA ⋆⋆⋆⋆
An alternative for the city tumult
Turówka Hotel & SPA**** in Wieliczka is a historic building enveloped by an enchanting garden. The Hotel adjoins a park and the Salt Mine. It also has its own free parking lot. As the perfect place for business and leisure, it welcomes each Guest with its stylish furnishings, high standard of service and architecture alluding to classicism.
Turówka Hotel & SPA**** is ready to accommodate a total of 120 visitors. We welcome our Guests to enjoy 52 elegant rooms and one luxurious suite.

Turówka Hotel & SPA⋆⋆⋆⋆
Rooms
Each room has separately controlled air conditioning, a smart TV with cable/satellite access and WiFi, in addition to a hot beverage set and a minibar. The minimum area for all double rooms is 200 sq ft and 180 sq ft for single ones. Comfortable family rooms and superior type rooms with a balcony view of the garden are also available.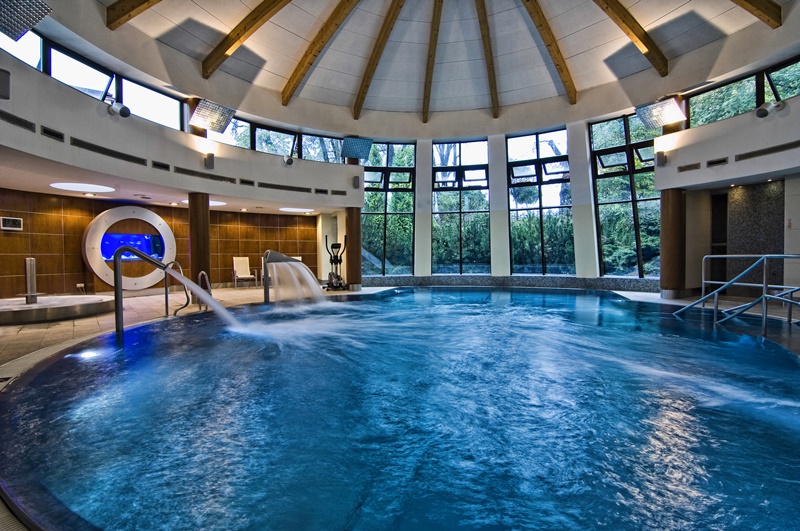 Turówka Hotel & SPA⋆⋆⋆⋆
SPA
Turówka Hotel & SPA**** is the only hotel in Wieliczka boasting a wellness recreational facility free of charge for the Guests, including a swimming pool, salt grotto, Finnish sauna, steam room and Jacuzzi. Turówka SPA has three professional beauty salons designed for those seeking soothing relaxation. Decleor and Ella Baché are among some of the finest brands of cosmetics used during sessions to rejuvenate your body and face.
Turówka Hotel & SPA⋆⋆⋆⋆
Convivia Restaurant
A cozy restaurant for lovers of delicious and fresh dishes, who delight in the art of preparing and serving.
The menu changes along with the seasons, as we adore the highest quality products that occur seasonally .
Our offer includes exquisite international dishes as well as Polish specialities.
The name of the Restaurant comes from the latin convivium, meaning to feast. Our professional service and a rich menu is to provide you with a real feast for the senses.
Join us in an unforgettable culinary journey in the company our Chef, Piotr Heród.

Turówka Hotel & SPA⋆⋆⋆⋆
Conferences
We provide professional services for conferences, trainings, integration trips and other special events, such as company Christmas Eve or business lunches. We offer professional multimedia equipment located in 4 conference rooms of various sizes, as well as a complete hotel and catering service that will enable you to create the desired setting and the climate you would like to achieve.
Turówka Hotel & SPA⋆⋆⋆⋆
Sport
In 2012 the hotel received the official title of a host for the Italian National Team during the European Football Championship UEFA EURO 2012 and began its great adventure with sports.
Perfect training conditions along with professionally prepared Hotel and training pitches favoured the Italian National Team, which won the title of European Vice Champion in the final
match against Spain.
After the success of the Italian National Team, we hosted the Polish National Football Team in 2013, led by the coach, Waldemar Fornalik. The team arrived at Wieliczka before the match against Liechtenstein, which was a farewell game for a goalkeeper, Jerzy Dudek.
In 2017 Turówka Hotel & SPA**** hosted the German National Team during the U21 EURO 2017 UEFA European Football Championship.

Turówka Hotel & SPA⋆⋆⋆⋆
Quiet location
The exceptionally convenient location, a 20 minute train ride from the centre of Cracow to the station next to the Hotel, makes Turówka Hotel & SPA**** the ideal alternative to the big city bustle. We are only 35 minutes away from the Cracow Airport via a new direct railroad line.